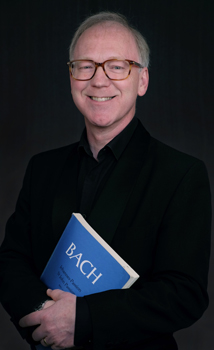 Paul Young began his musical education as a chorister at Hythe Parish church under the inspirational direction of Dr Berkeley Hill. This was to foster a lifelong love of music, taking him to Exeter University to read Music and thereafter into teaching. He has taught at the Benedictine school Ampleforth College, the Junior King's School, Canterbury and Dover College. At Exeter he was a Choral Scholar in the cathedral choir, at York a Deputy Songman and at Canterbury has been a Lay Clerk for over twenty years. With these choirs he has toured Europe and the USA and recorded a number of CDs and live broadcasts.
Throughout his career he has sung professionally as a tenor soloist for most of the local choral societies (not least on several occasions for Ashford) as well as further afield. His link with Mark Deller (previous Music Director of Ashford Choral) stretches back to 1976 when he sang his first major solo as a treble in Handel's Messiah alongside Mark singing counter-tenor. Mark's encouragement has also led him to be involved in several of the Stour Festival concerts, most notably taking part in two operas – Alan Ridout's, The Pardoner's Tale and Matthew King's Pied Piper.
Paul's operatic experience has also been enriched by being a core member of Canterbury Cathedral Garden Opera led by Penelope Martin-Smith, performing all of the major Mozart operas as well as Lehar's, The Merry Widow and Verdi's La Traviata.